Design Team Leader: Ellen Jarvis
Following a 40-year career in marketing and public relations in which she was known for her "out of the box thinking", Ellen Jarvis retired on disability, and went on the hunt for a hobby that would fulfill her insatiable need to be creative every day. Throughout her life, she dabbled in many creative arts – photography, watercolor, cartooning, sewing, knitting, macramé, beadwork, jewelry making – spurred on by a long line of creative relatives.
In 2010, with her first grandbaby due, Ellen decided to take up machine embroidery to make personalized baby clothes. She bought a wildly-expensive machine and had barely set it up in her craft rom when her daughter, Emily, asked for a Cricut for Christmas, so she could make her own Christmas cards. Ellen bought two, including one for herself, and a lot of cartridges, paper, adhesives and embellishments – and her new hobby and blog were born.
Thousands of cards later, Ellen has a following of more than 5,000 on social media. She has taught cardmaking at workshops, online, at retail stores, on behalf of two direct sales papercrafting companies, on YouTube, at a non-profit art center, and now, at Creative Inkling. She has certifications in graphic arts, typography, and in the use of Copic markers.
Ellen lives in Warminster, PA with her hubby John, and two Bichons, Sadie and Morgan.

Annie Wills
Hi, I'm Annie Williams and I live in Pennsylvania with my husband of 13 years, a 3-year-old boy full of crazy energy, and a little girl we recently welcomed into our lives. I am a scientist by training, but I have always been interested in art and art history as well. As I moved further along in my career into more administrative-type roles, I began to realize that I missed working with my hands all day. As a result, I picked up some of my old hobbies from high school and college (papercrafting, painting, drawing, woodworking, etc.) and started my blog as a place to share a mix of home decor, handmade card, and gift ideas.
With the birth of my first child, I put my science career on hold and began designing for various craft companies on the side. This eventually led to a full-time position in the craft industry where I was responsible for product photography for print and digital publications and sample production and digital catalog creation for nationally televised shopping events. Missing my time with my family and the creative outlet, I recently left this role to pursue designing as a hobby again.
I'd characterize my style as simple and traditional, but I love to experiment with new types of media and various coloring techniques. I am an Accredited Spectrum Noir Colorist and a Certified Copic Colorist, but love to dabble in colored pencil and various watercolor techniques as well. My projects often reflect my other interests which include outdoorsy things like hiking, biking, and canoeing as well as a love of travel, small towns, and nature photography.
Candy Rosenberg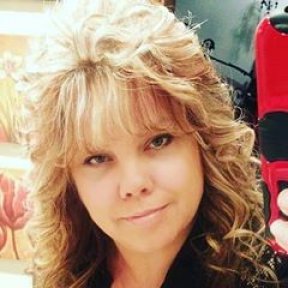 Candy Rosenberg has been crafting in the industry for over ten years and is known for her Steampunk Vintage style and resides in beautiful Grants Pass Oregon in her empty nest, now that all three children have moved on. She creates with paper and makes small to full size wearable dresses for shows and competitions. She has worked with Graphic 45, is a brand ambassador for Fiskars, Scrapbook Adhesives by 3L, Beacon Adhesives and DecoArt. She is truly "A VIntage Girl" and has started her own brand of chipboard products for mixed media after getting frustrated that what she wanted to design with was not available. Her true passion is teaching and watching someone create something beautiful with their own hands. Visit her online at www.AVintageGirl.com
Michelle Diaz
Michelle has been a crafter since she can remember. From paint to fabric to party/home decor her boundless energy is best put to use creating. She lives "by the lake" in NC with her Harley-riding husband and enjoys time with her wonderful grandchildren every chance she gets. Besides crafting she enjoys gardening and long motorcycle rides with the love of her life.